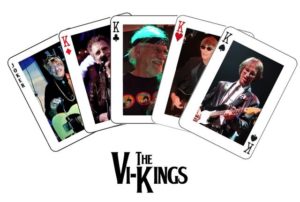 The exquisite Music Cafe in Damascus is the most intimate setting possible for experiencing The VI-Kings. Only SIXTY seats are sold, no dance floor, you might as well be "in the band" you are so close and so much a part of the presentation. We take this kind of opportunity to weave the stories behind the bands and the music of the 1960's. Imagine a Greenwich Village coffee house, just you and Dylan, 1962! Well, note quite, but we'll give it our all!
It's one of our favorite places to play and we want you to be a part of it! It's only a 30 minute drive from the Beltway too, and an early evening 8-11. Call ahead right away as the last three performances were all sold out days in advance!
26528-B Ridge Road Damascus, MD 20872
(301) 253-1500
Great food and drinks too, $10 cover. It all goes to the musicians!